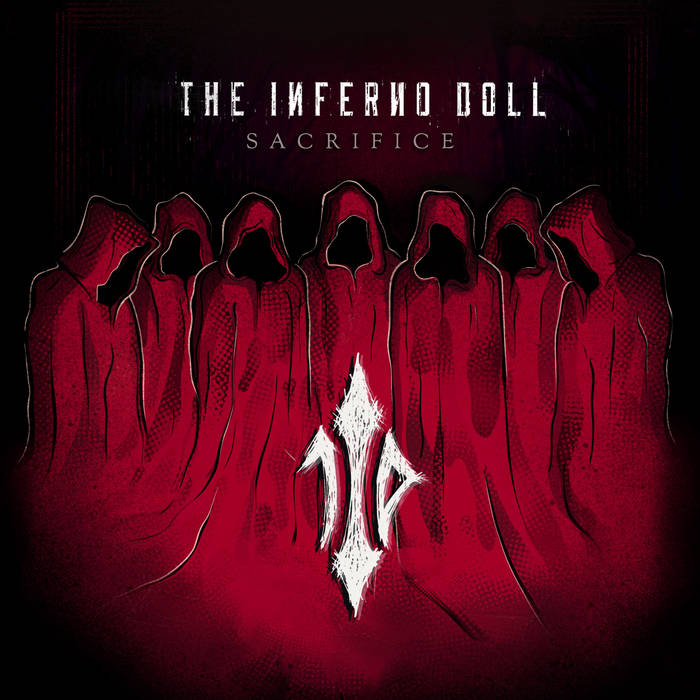 The Inferno Doll is a solo project created by the Chilean vocalist Laura Vargas. This was basically the full extent of my knowledge when I received the EP entitled "Sacrifice". Starting with a blank slate and not really sure what to expect, I connect my headphones and embarked in a journey with The Inferno Doll.
The record starts with the title song, "Sacrifice", which is a dreamy, gothic piece of symphonic metal with multiple vocal layers. Laura showcases her wide vocal range, moving with ease from clean operatic voice – present throughout the chants used here as musical landscape – to nice and meaty growls. The music, composed mostly by electronic drums, is gently played in the background to complement the track sonority without stealing the song spotlight. The biggest outcome of this exercise is the song's industrial elements which makes it crisp and fresh.
Since I didn't enjoy the track "Ghost Waltz", which was a bit too mellow for my taste, I am moving directly to the "Land of the Lords" – the closing track of the record – which honestly took me by surprise. I had expected another moody gothic track, but instead I got all what was missing in the previous songs. "Land of the Lords" provides a nice dose of energy. It begins with a sweet growl after which Laura takes you for a  wild trip on a metal roller coaster. This one delivers what I expected with the promising start of the record – a combination of harsh and clean vocals, noisy drum sections and distorted guitars sounds. "Land of the lords" finally delivers it! In addition, there is this middle section where the track becomes, almost completely, into a death metal song! There is only one word to describe it – sweet! This is without any doubt the best part of this record.
I need to start the review summary with the statement – Laura definitely conquered me with the "Land of the Lords"! The rest of the record is kept on a decent level but, for my particular taste, there is a piece of the "Sacrifice" puzzle that exceeds all the expectations. Furthermore, if you are not a fan of noisy headbanging tracks, the album also provides nice gothic horror elements for you.
https://youtu.be/VLxRykzFkpw
7/10
About The Inferno Doll:
Review by: Kasper Pasinski
Managing editor: Elsa Marques